Zodiac Killer tips & leads, please share them here at:
contact.php
Your details and contact information will not be shared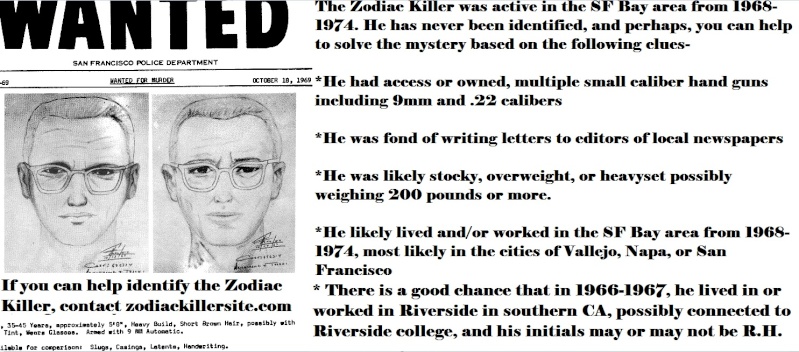 The Zodiac Killer was likely between 21 & 45 at the time of his attacks in 1969. He actively wrote letters to the editors of local newspapers, and may have frequently done this prior to his Zodiac crimes, and may have used his actual name. He was described as being between 5ft8 to 6ft2, and stocky to heavyset or overweight, possibly near or exceeding 200 pounds. He likely had an interest in shooting, and guns, and owned or had access to multiple small caliber handguns. He also likely had an interest in ciphers,or coded messages. He may have been a fan of the Gilbert & Sullivan productions, and read the book, 'The Most Dangeorus Game'. Most importantly, before his 1968-1974 activity in the San Francisco Bay cities of Vallejo, Napa, and San Francisco, there is a very good chance he resided in Riverside in southern CA during 1966-1967, and possibly worked at or attended Riverside college.